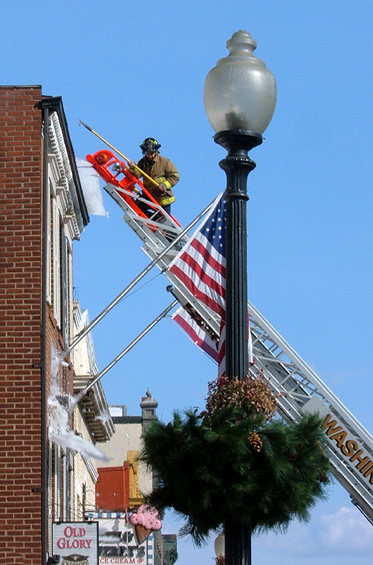 Sunday, February 24, 2007, around 1:00 pm, Washington DC -

The Georgetown Ben and Jerry's on M St and Wisconsin Avenue,

a few days after a significant ice Storm.

The sidewalk was cordoned off, and a Hook and Ladder truck was summoned bcause of a HUGE sheet of thick ice that was about to fall off the roof, onto the sidewalk, 35 feet below.

This photo captures the moment that the firefighter, using a hook, chopped off the first half the ice sheet and watched it fall to the ground. You can see the ice on the lower left side of the photo, as it crashes to the ground harmlessly.

Photograph (c) 2007, Azar Attura

NOT a Topping you would want for your Sundae !!